Kursus Bahasa Inggris Untuk Perusahaan
(In Company Training)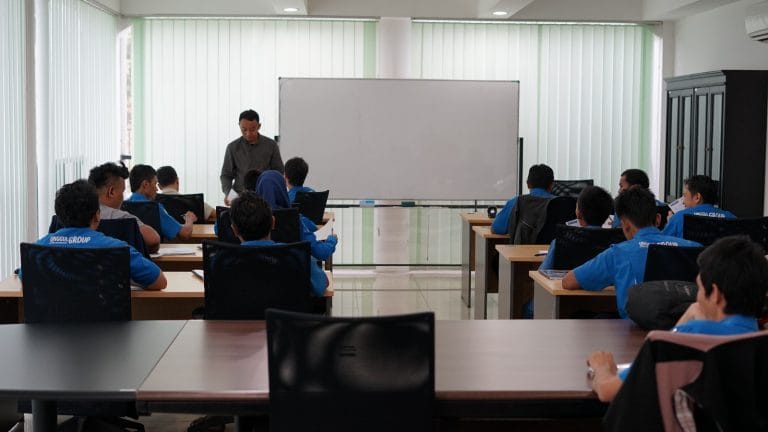 Aktifitas digital di perusahaan semakin sulit dibendung, pertukaran informasi berlangsung sangat dinamis. Penguasaan bahasa Inggris menjadi satu faktor penting agar perusahaan mampu memenangkan persaingan bisnis.
Setiap perusahaan menginginkan SDM berkualitas yang memiliki daya saing serta berwawasan global, SDM berkualitas tidak hanya sebagai aset untuk menumbuhkan eksistensi perusahaan.
Namun juga sebagai image perusahaan itu sendiri. Atas dasar itu kami hadir, menawarkan konsep pelatihan Bahasa yang sistematis bagi karyawan-karyawan perusahaan, atau biasa disebut program Kursus Inggris untuk Perusahaan & Karyawan.
Kursus Bahasa Inggris untuk Perusahaan memiliki Program In-Company English Language Training dikonsep dengan metode khusus yang sistematis bagi perusahan yang ingin meningkatkan kecakapan para karyawannya dalam berbahasa Internasional. Program ini memadukan 2 model belajar, yaitu offline dan online.
Kelas offline yang berlangsung di perusahaan disediakan agar peserta mendapat pemahaman materi secara utuh.
Forum online disediakan, agar peserta dapat berinteraksi menggunakan Bahasa Inggris secara intensif.
Selain program belajar In Company English Language Training, Golden English juga menyediakan program belajar lain, diantaranya :
PT. Wijaya Kusuma (Persero) tbk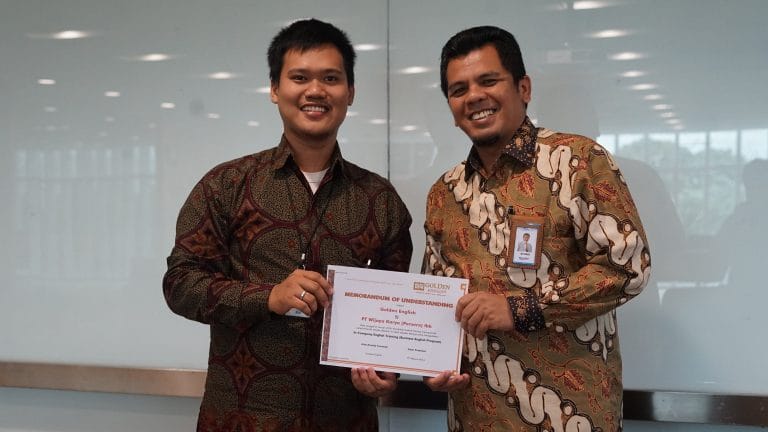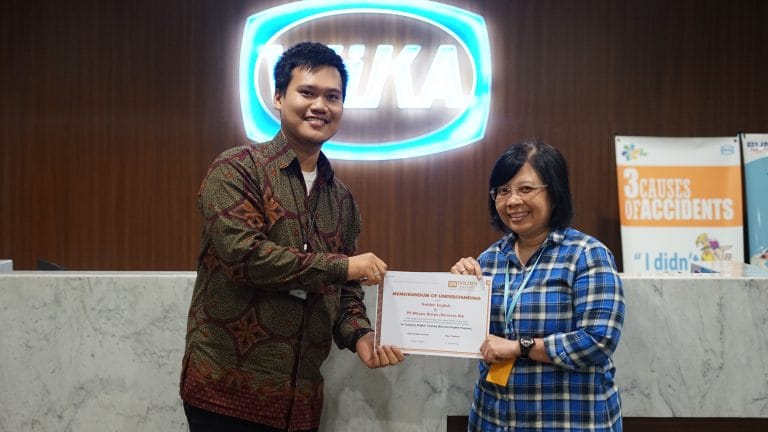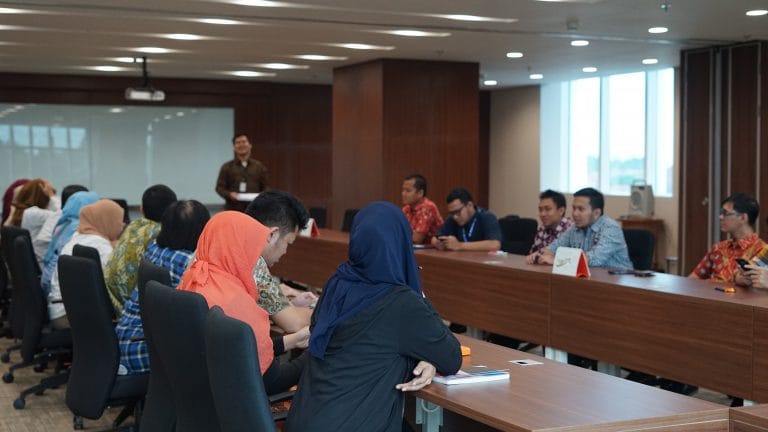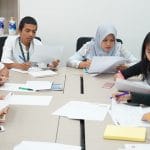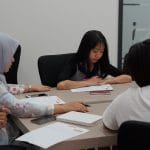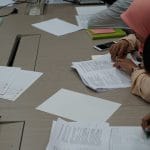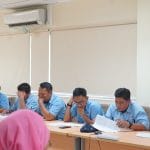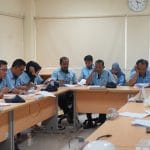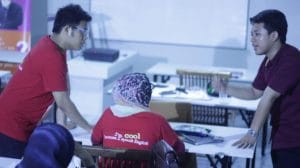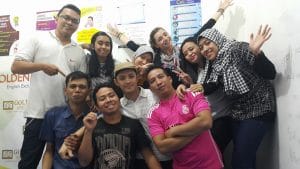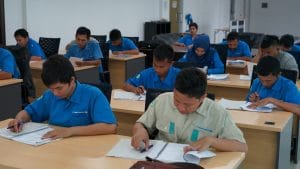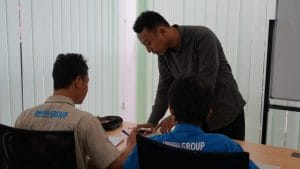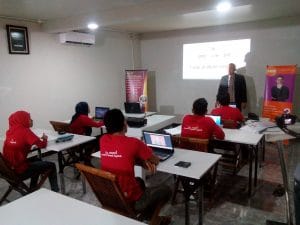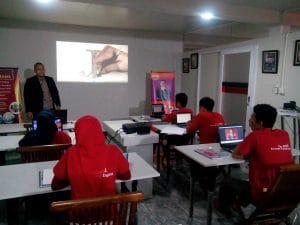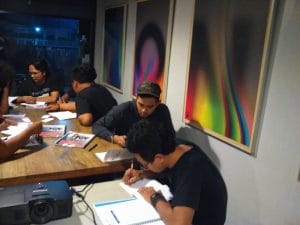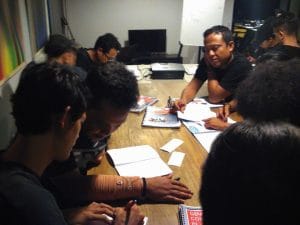 Perusahaan yang sudah bekerja sama dengan Golden English
1. PT. Wijaya Karya (persero) tbk,
2. PT. Media Jurnalis Property
3. PT. Refratech Mandala
4. KJPP Rengganis, Hamid dan Rekan
5. PT. Weldpart Indonesia
6. PT. Magnivisi Indonesia
7. PT. Pembangunan Perumahan (persero) tbk
8. PT. Sentimas Ban Ngai
9. Apartmen cbd Pluit
10. LSM Anak Panah Indonesia
11. PT. Sumisho Global Logistics (SGL)
12. AbT Associates
13. PT. Beyond Medical Indonesia
14. PT. Eblo Teknologi Indonesia
15. PT. Patra Logistik (Pertamina Group)
16. PT. Titan Tehnik
17. PT. Skyreach Indonesia
18. PT. Asian Management Consulting
19. PT. UPM Raflatac
20. PT. Pratama Contromatic Abadi
21. PT. DHL Express Indonesia
22. CDC Anak Panah Indonesia
23. PT. Aramsa Infrayasa
24. PT. Lippo Insurance
dll
Golden English Telah Masuk di Berbagai Media Nasional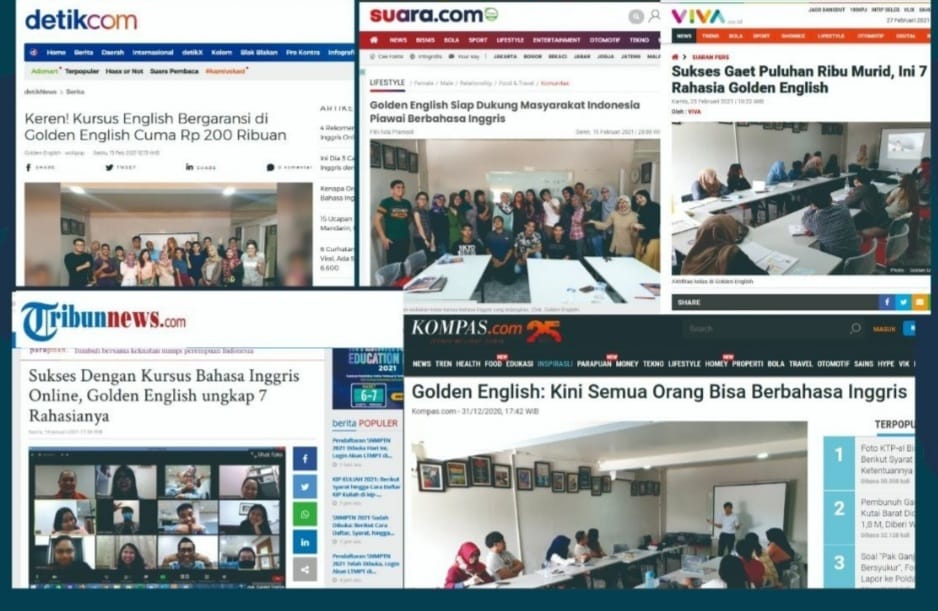 Golden English telah melayani peserta kursus dari berbagai perusahaan dan instansi di Indonesia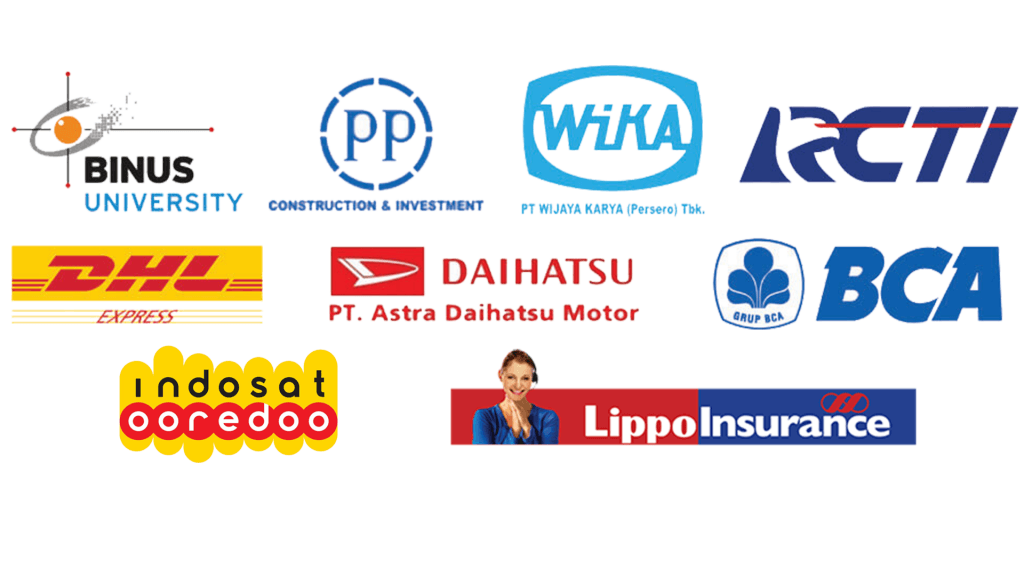 "I really love learning English at Golden English, all teachers are smart, cool and friendly.... GE has a good method for teaching students who want to improve their English... And the most important thing : the cost is affordable but GE has a great quality 👍"
"It is an amazing experience to take an English course at Golden English. The teachers are very experienced and they teach me with a fun method! there are outbound events, games, and trips with native speakers. If you are looking for a cheap and trusted English Course, Golden English is the best choice."
"From my point of view, Golden English is the best choice for a beginner to learn English, with the cheapest price, they provide comfortable classrooms and good facilities. Golden English is not only teaching you about English, but it also has a kinship and togetherness with others."
"GE is the best choice and recomended English Course for those who want to increase their English skill. I never found the English course with good method and exciting environment but the fee is very affordable EXCEPT in Golden English"
"I am happy to be here because i can improve my english skills both in writing and speaking. The teacher really helps me when i need to learn more, we aren't only learning the theory but also we're practicing what we learned. If you want to improve and to learn more, i recommend you Golden English."
"I'd like to share my experience of learning English at Golden English, It is amazing, because the tuition fee is quite affordable, the teaching materials are easy to understand, and the last (the most important), The teachers are friendly, the class is fun."